FrieslandCampina Viet Nam Management Trainee Program (FCV-MT)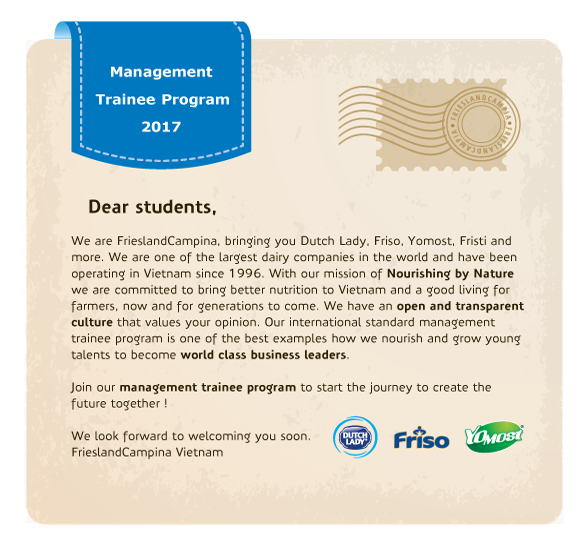 ABOUT FRIESLANDCAMPINA
We have a long history that began all the way back in 1871 when a group of Dutch dairy farmers joined forces to ensure their milk got to market without spoilage. Over the years, together with FrieslandCampina employees, the member dairy farmers have built an international dairy company that now spans the world.
Today, we have grown into one of the world's largest dairy companies and have been op­erating in many countries in Europe, Africa and Asia. We own many strong lo­cal brands that are considered iconic by the communities we operate in. Our products are being shipped to over 100 countries all over the globe. We believe in dairy nourishing strengths and provides millions of consumers with dairy products containing valuable nutrients.
Our company is owned by strong cooperative of almost 20,000 farmers. Many of them have been members for generations. Doing fair business and having a sustainable vision for the future of our company and our farmers is a fundamental element of our DNA.
We are and will remain a responsible business. The world's population is expected to grow to over nine billion people by the year 2050. Provision of food for this growing population is a huge challenge, and we want to make a contribution to solving the world challenge. Our goal to grow climate neutral and help our farmers do the same is a shared commitment that will create a sustainable future for our business.
OUR DEPARTMENTS
Being a spoke-function for FrieslandCampina, our Corporate Affairs' role is to build and sustain corporate image with our key stakeholders. With our knowledge in FrieslandCampina's strategy, we represent the company in events and other media channels to transfer our mission message to community in various innovative ways. We also consult other functions in communications and provide them expertise support in crisis management.

In Corporate Affairs, you not only learn the corporate identity but also contribute in building and promoting it. If you want to emerge in that diverse management picture, apply for us!

In Consumer Marketing, everything starts from consumer insight. Based on what our consumers desire, we are the champion in product innovations and build consumer awareness with our integrated communication plan including TVC, Digital and PR activation. Together with R&D, Sales & Shopper Marketing, Finance & Supply Chain, we are a part of business team to manage the whole product portfolio and drive our brands' growth.

If you are curious about how consumers behave, how communications work in modern world, and how we passionately drive actions to address both, apply for us!

FrieslandCampina's Operations is a long yet fascinating process to bring our products from grass to glass. Under our World-class Management system, we have global standard to comply from sourcing the best material, producing the highest-quality products to delivering them to consumers' hand. Besides, we will continuously bring innovations to revitalize our products and optimize analysis to drive efficiency in our supply chain procedure.

If you want to be a part of a performance-excellence team with strong technical knowledge, if you want to strategically involve in and shape our diverse supply chain picture, apply for us!

In Sales & Shopper Marketing, our ultimate goal is to engage our shoppers with our products. With deep understanding of customers' and shoppers' need, we build a strong collaboration with our customers and ensure our product visibility for shoppers via outstanding distribution strategies and in-store communications. In our changing world, we not only continuously master our traditional shopping channels everyday, but also reach out for future merchandising opportunities.

If you have a strong entrepreneur mindset, if you like to win in the market and influence shopping behaviours, apply for us!

In Human Resources, we are passionate about designing the effective organization structure and continuously building its capability. Playing the role of strategic partner to business functions and change agent, we provide people insight and drive people solutions to address business strategies. With our mastery in compensation and benefits, talent acquisition and organization development, we ensure talents nourished, sustained and grown in their career roadmap.

If you are inspired by organization and people development, if you want to drive business objectives via people strategy, apply for us!

Finance is the heart of every business. As FrieslandCampina's Finance, we not only take care of the whole business transactions but also play the partnering role to the business team. With our expertise in financial techniques and business insight, we evaluate risks, opportunities and influence critical business decisions.

If you find beauty in figuring out logics in data puzzles and applying them in business solutions, if you want to make impact to our business strategies with your sharp financial analysis, apply for us!
WHY SHOULD YOU JOIN FRIESLANDCAMPINA MANAGEMENT TRAINEE PROGRAM?
At FrieslandCampina we value talented people from any background who want to contribute to something bigger than themselves. Every impact you make starts with you. Your passion, your drive and your individual strengths make us who we are. We trust you to make a difference in your job and influence the bigger picture. Working at FrieslandCampina means you are contributing to a better world and try to become a little better each day.

Our Management Trainee (MT) program is the best example how we nourish young talents from early days of their career and develop them into global business leaders.

The program is unique because
– It is very intensive
– 24 months for a fresh student to be developed into a manager.
– It is real because there will be real jobs, real assignments when MT do job rotations
– It is challenging because there will be rigorous assessment and feedbacks for development throughout the program.
– It is very rewarding because MT will have full support from mentors/coaches/peers, great opportunities to learn & grow fast, enlarge network and contribute.
But becoming a manager at the end of 24 months of MT program is not the end in itself. Rather it is just a start of a bright, meaningful career for someone who really wants to make a difference and contribute to a better world.
SELECTION PROCESS
Application (03 Jan 2017 – 20 Feb 2017)
You need to fill in your passport (application on line). This is the first step we are getting to know you so make sure you invest time in your application.
Tips: Answer all questions, do not leave anything blank
Initial Interviews (27 Feb 2017 – 15 Mar 2017)
You will meet FCV staff either on line or face to face (depending on locations). They are experienced professionals who will listen to your story, make initial assessment whether your strengths, aspirations and motivation are fit to MT program and to FCV culture and values.
Tips: Be honest and be yourself, ask questions for clarification if you are not clear
Business Challenge (20 Mar 2017 – 31 Mar 2017)
Selected candidates will work in teams (group of 6-8 people) on a real business challenge of FCV. The teams will have 1 week to do field works by themselves, get observations, insights, and come up with actionable recommendations. On the business challenge D-Day they will present their group works to Directors and Leadership Team, and more surprises will come ahead!!!
Final Interview
Those who do well in business challenge will be invited to the final interview with Leadership Team on the same day. The hiring decisions will be right on the spot after the interviews.
Tips: Again, be yourself, be humble, be curious, be cooperative.